A Natural Curriculum Rooted in Wonder
Groton Farm School
at Luina Greine Farm
A country farm school for ALL children, including learners with attention difficulties and ADHD.
Groton Farm School is a country day school located on a 20-acre working farm. A great deal of our teaching is outside, in nature, among our orchard and farm animals. We are located at Luina Greine Farm and welcome ALL children from the ages of 5-10 years old, including children with attention difficulties and ADHD. We are a child-centered educational community that encourages adventure, exploration, and love of learning from September through June!
Nature Based Curriculum Rooted in Wonder
At Groton Farm School, we believe the natural world around us is the perfect classroom to inspire wonder, independent learning, and critical thinking. We recognize that children learn and grow in response to where they learn. Our school provides a unique opportunity to utilize our diverse landscape on 20 acres, as our primary resource for learning. Students are invited to explore our pastures, meadows, forest, apple orchard, and barnyard full of animals every day.

Wonder

Explore

Discover

Create
Find out what sets us apart! We invite you to get to know our talented, accomplished, and well-educated staff of professionals.
Benefits Of Outdoor Learning for Children
About Groton Farm School
We believe in the critical importance of encouraging in children a sense of respect and responsibility for the natural world and all that live in it. Our nature-based curriculum offers limitless opportunities to create a learning environment that integrates all subjects across the curriculum. Our goal is to transform the way that children approach learning for life. We, here on the farm, seek to energize and inspire active explorers of their world and ultimately develop positive environmental life habits and responsible stewards of the earth.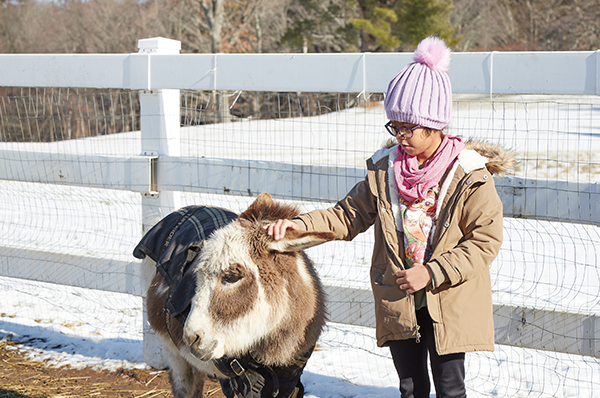 Apply for Admission Today!
Academics
Groton Farm School's "real-life," hands on, Math/Science Program, brings our students outside in nature whenever possible. Nestled in the quaint countryside of Groton, 40 miles from Boston, on 20 glorious acres of pastures, stonewalls, meadow, forest and orchards, as well as many farm animals, naturally provide our learners with an abundance of perfectly orchestrated lessons gifted to us by Mother Nature! Many, many more lessons in Math and Science than we could ever possibly explore and discover in a lifetime!