Science, Technology, Engineering, Art, and Math
Groton Farm School's "real-life," hands on, Math/Science Program, brings our students outside in nature whenever possible. Nestled in the quaint countryside of Groton, 40 miles from Boston, on 20 glorious acres of pastures, stonewalls, meadow, forest and orchards, as well as many farm animals, naturally provide our learners with an abundance of perfectly orchestrated lessons gifted to us by Mother Nature! Many, many more lessons in Math and Science than we could ever possibly explore and discover in a lifetime!
Through our instruction, facilitation, and guidance, we help children pull from their natural curiosity, and channel it through lessons on how to think critically, analyze, evaluate, organize, predict, sort and infer. Children are natural problem solvers. At our farm school, children participate in active learning experiences all day. This allows them to develop knowledge, experiences, and skills more deeply and profoundly. Therefore when students leave us here on the farm, they take all of this with them on their life's journey!
Language Arts
We use the Workshop Model of Literacy because it naturally encourages children to spend the majority of their time actually reading and writing! Skills and strategies are taught in the first 10-15 minutes of the lesson (mini-lessons.) Next, students read, write, and apply the new skill they have just learned. Teachers support them privately, conferring with each child individually, every day, in regards to their use of the strategies taught. The workshop approach allows for each student to work at their own pace and current level, over a course of time.
Varied genres are experienced in both Reading and Writing.
Personal Narratives
Research
Curriculum Specials
Groton Farm School offers the following curriculum specials: 
Art

Woodworking 

Photography 

Music

Ecological Adventure (hiking, trail walks, visiting our local ponds, streams, rivers, wetlands, canoeing, and visiting other local farms and orchards, conservation and sustainability)

Yoga and Meditation

Gardening (growing our own food.)
*Frequent guest speakers/experts visit us throughout the year, depending on our current curriculum studies.*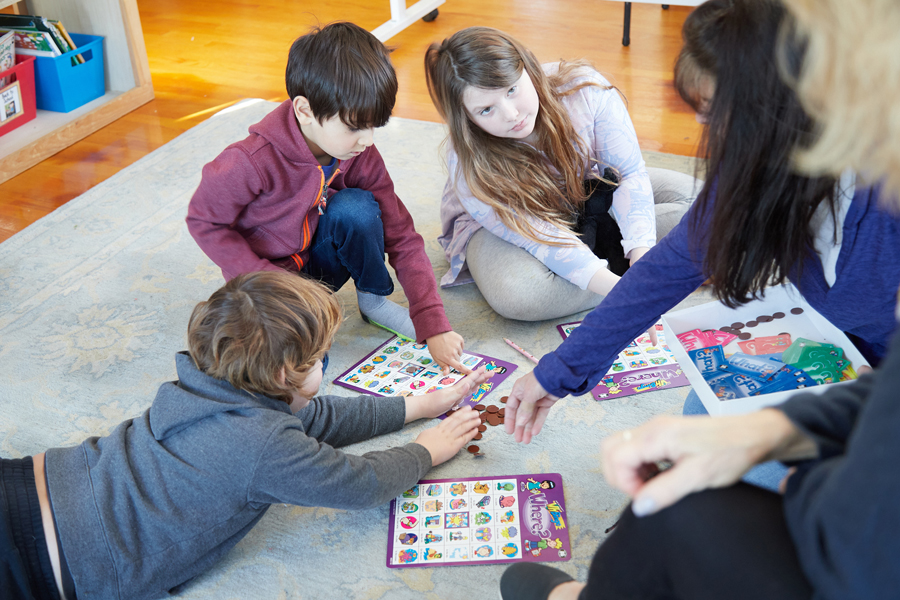 Sample Daily Schedule
Morning drop-off is at 9:00 am and afternoon pick-up is at 3:30 p.m. Beforecare (8:00 am) and aftercare (3:30-5:00 pm) are available Monday - Friday. Both options must be arranged in advance.
Time

Description

9:00 am

Morning Work Learning
Centers for younger students

9:30 am

Morning Meeting mini lesson (will vary from day to day)
Guided Meditation and Yoga

10:00 - 11:30 am

Literacy/Reading and Writing Workshops
Small groups, depending on a child's particulars needs on any given day
Math

11:30 am - 12:30pm
Lunch/Recess/Feed Farm Animals outside

12:30 pm

Teacher Read Aloud

1:00 - 2:30 pm

STEAM (Science, Technology, Art, and Math)

2:30 - 3:20 pm
Snack/Recess outside

3:30 pm

Dismissal
* Specials classes offered daily. Times may vary.
Every Day
The curriculum at Groton Farm School consistently provides the following:
Balanced Literacy Teaching

Direct and explicit instruction

Long stretches of time to read and write

Use of the writing process (drafting, revising, editing and publishing)

Opportunities to consolidate skills and strategies within fluid and engaged reading and writing

Real writing

Talk and respond to text 

Increasingly complex text

Goal settings for a reader and writer

Frequent feedback from teachers and peers